Carbon Block Filters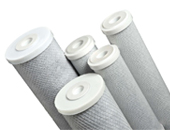 Coco Carbon is proud to introduce its own carbon block filtration media with better and more refined filtration options. Coco Carbon engineered a new innovative technology for carbon blocks with state-of-the-art compression moulding process of activated carbon granules with a binding agent that allows the carbon granules to maintain a static position relative to each other.
This advanced method produces a strong, one-piece block with an extended life. It is unsurpassed at removing chlorine, sediment, taste, odor and organic contaminants. Due to its highly uniform moulded structure, Coco block benefits include the elimination of carbon fines release, as well as channeling and bypass.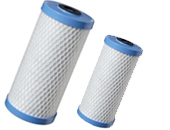 Benefits of Coco blocks
Coco filters and cartridge elements are designed to flow in a radial, outside to inside direction resulting in low pressure drop, high flow rate and increased dirt holding capacity.
The Coco Block is manufactured from high quality NSF certified activated carbon and is designed to fit all standard household and commercial housings.
Coco Carbon offers carbon blocks in various sizes from 5'to 20' with microns ranging from 0.6 to 10. We also indulge in R& D for specialty blocks according to client's requirements. Coco Carbon is able to offer block technology utilized in conjunction with other media that can control VOC / CTO.
CC - CTO Blocks
Product Name
Dimension OD X Lenth (in mm)
Micro Rating
Chlorine, Taste, Odour Reduction Capacity
Initial P @ Flow rate
10" CTO
70 X 248
1 to 10
30,000 Lts @ 3.8 L/Min
.18 Bar @ 3.8L/Min
20" CTO
70 X 248
1 to 10
60,000 Lts @ 7.6 L/Min
.18 Bar @ 7.6L/Min
10" BB CTO
114x248
1 to 10
60,000Lts @ 11.4 L/Min
.28 Bar @ 11.4L/Min
20" BB CTO
114x248
1 to 10
129000Lts @ 28.6 L/Min
.43 Bar @26.6L/Min
CC - VOC Blocks
Product Name
Dimension OD X Lenth (in mm)
Micro Rating
Chlorine, Taste, Odour Reduction Capacity
VOC Capacity (>)
Initial P @ Flow rate
10" CTO
70 X 248
1 to 10
5 um @ - 38,000LtS @ 3.8 L/Min
>1900Lts @ 1.9L/Min
.18 Bar @ 3.8L/Min
20"VOC
70 X 508
1 to 10
5 um @ - 76,000LtS @ 7.6 L/Min
>6650Lts @ 3.8L/Min
.18 Bar @ 7.6L/Min
10" Big VOC
114 X 248
1 to 10
5 um @ - 95,000LtS @ 11.4 L/Min
>7600Lts @ 3.8L/Min
.28 Bar @ 11.4L/Min
20" Big VOC
114 X 508
1 to 10
5 um @ - 2,09,000Lts @ 26.6 L/Min
>15,200Lts @ 7.6L/Min
.43 Bar @26.6L/Min
CC - CYST Blocks
Product Name
Dimension OD X Lenth (in mm)
Micro Rating
Clorin Taste Odour Reducation Capacity @ Flow
VOC Capacity (>)
Initial P @ Flow rate
10" Cyst
70 X 248
1 to 10
1 um @ - 76,000Lts @ 3.8L/Min
2850Lts @ 1.9L/Min
.24Bar @ 3.8L/Min
20" Cyst
70 X 508
1 to 10
1 um @ - 1,71,000Lts @ 7.6L/Min
6650Lts @ 3.8L/Min
.24Bar @7.6L/Min
10" Big Cyst
114 X 248
1 to 10
1 um @ - 3,04,000Lts @ 11.4L/Min
7600Lts @ 5.7L/Min
.32Bar @ 11.6L/Min
20" Big Cyst
114 X 508
1 to 10
1 um @ - 6,08,000Lts @ 26.6L/Min
15200Lts @ 7.6L/Min
.60Bar @ 26.6L/Min
CC - Biostatic Blocks
Product Name
Dimension OD X Lenth (in mm)
Micro Rating
Clorin Taste Odour Reducation Capacity @ Flow
Bio Static Capacity @ Flow
Initial P @ Flow rate
10" Bio
70 X 248
1 to 10
5 um @ - 45,461Lts @ 4.5L/Min
7955Lts @ 1.8L/Min
.17Bar @ 4.5Lts
20" Bio
70 X 508
1 to 10
5 um @ - 90,920Lts @ 9L/Min
15456Lts @ 3.63L/Min
.17Bar @ 9Lts
CC - Chloramine Blocks
Product Name
Dimension OD X Lenth (in mm)
Micro Rating
Chlorine, Taste, Odour Reduction Capacity
Chloramine Capacity @ Flow
Initial P @ Flow rate
10" ChlorM
70 X 248
1 to 10
1 um @ - 90,920 Lts @ 4.5 lts/min
2727 Lts @ 1.8 Lts/min
.17Bar @ 4.5Lts
20" ChlorM
70 X 248
1 to 10
1 um @ - 1,363827 Lts @ 9lts/min
4546 Lts @ 3.6 Lts/min
.17Bar @ 9Lts